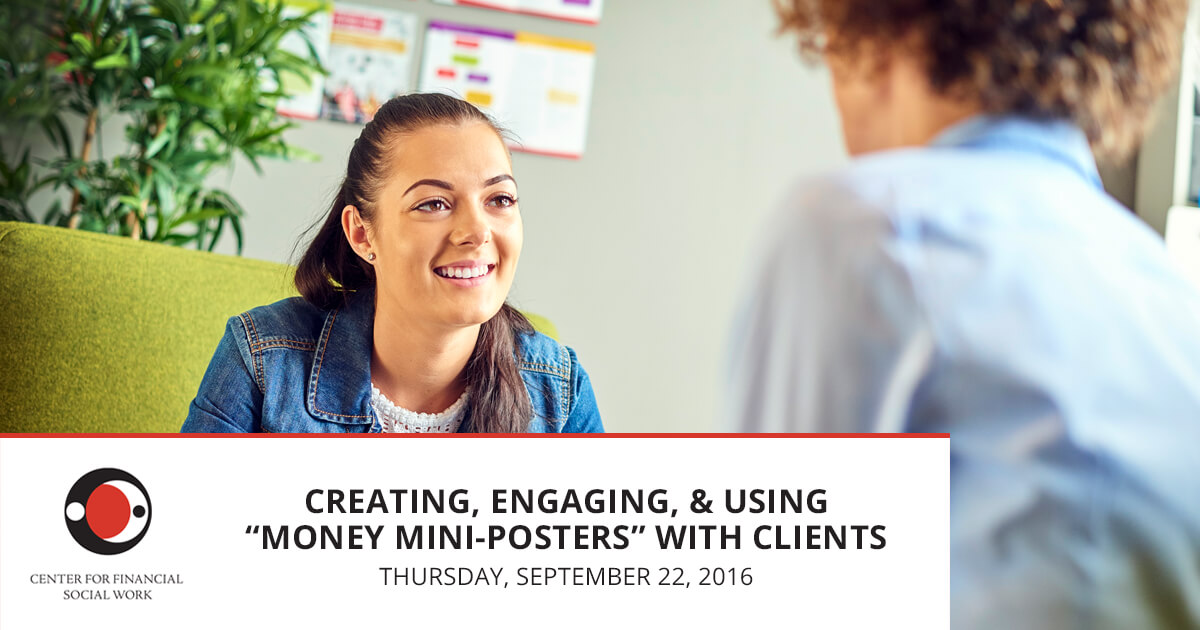 Thursday, Sep 22 at 2:00 PM ET / 11:00 AM PT
This webinar is completely free and registrants will receive a recorded video of the presentation!
If you've ever wished for an easier way to guide clients through important financial concepts, "Money Mini-Posters" are the tool for you. They provide a client-centered, hands-on approach that encourages clients to establish healthy money habits in a manner and at a pace that makes sense for them.
Bonus for Attendees! Receive a free "Money mini-poster" sample with instructions to get you started.
Join us to Learn
Attend this webinar to learn how to start creating and using "Money Mini-Posters" and how they…
Contribute to financial wellness.
Maximize client engagement.
Reinforce client work.
Encourage commitment.
Benefit you/your clients.
Motivate and support financial behavioral change.
Register for free now and join us on Thursday, September 22nd at 2:00 PM ET (11:00 AM PT). If you are unable to attend or would like to receive a recording, please proceed to register for the webinar and you will receive a recording via email the following day.
Written By Reeta Wolfsohn, CMSW
New Webinar: Creating, Engaging and Using "Money Mini-Posters" With Clients was originally published @ Center for Financial Social Work and has been syndicated with permission.
Related Posts
Subscribe to the SJS Weekly Newsletter